Last week, I joined Chris Treadaway, founder and CEO of Notice Technologies (the parent company of newly launched Polygraph Media) to Defrag
 2011 in Denver. Defrag bills itself as "the first conference focused solely on the internet-based tools that transform loads of information into layers of knowledge and accelerate the 'aha' moment." In practical terms, Defrag is all about the challenges and opportunities around Big Data, such as managing it with scale and extracting meaning from it. As Big Data gets ineluctably bigger, surviving the deluge will prove to be one of the great business challenges of our lifetimes.
Defrag is a brainy but manageably-sized conference, affording extensive opportunities to trade notes with technologists, analysts, VCs, entrepreneurs and enterprise business development types. The speaker list gives you a sense of the rarefied air Defrag attendees were breathing in the Mile High City: Brad Feld, Paul Kedrosky, Tim Bray and Roger Ehrenberg are just a few of the folks who sent us away feeling a lot smarter on Thursday than when we were when we arrived on Tuesday.
Chris and I were there to launch Polygraph, whose exhaustive social data mining platform enables brands, marketers, agencies and businesses generally to derive actionable insights from a firehose of consumer data being amassed in social silos like Facebook, YouTube and Twitter. Chris, the co-author of Amazon best-seller
Facebook Marketing An Hour A Day
and an unabashed quant, founded Polygraph out of a desire to subject the fluffy claims of social marketing to quantitative analysis as a way to measure success and derive actionable business insights. As we joked this week, we settled on the name Polygraph after our public relations team balked at calling the company "Bullshit Detector."
Like a lot of startups with booths at Defrag this week, Polygraph is tackling a Big Data problem. As Brad Feld noted on Thursday, machines are feasting daily on terabytes of personal information that humans voluntarily feed them. Of course, social media is a significant channel for that personal information. It occurred to me this morning that one way to think of Facebook is the largest, yet most granular lead generation and qualification platform mankind has ever known. And that's just one slice of the social opportunity for businesses.
Social networks are far more than an outbound marketing channel for businesses. They're a mirror as well.  Platforms like Facebook, Twitter and YouTube are where the market's most vocal, critical and passionate consumers tell you what's right and wrong with your product, your customer service, your delivery – hell, your whole business. While these folks may represent less than a percent of your customer base, don't think of them as outliers; they're proxies for what the rest of your market thinks. And they can (and do) shape what that other 99% thinks.
That's ultimately why, despite the skepticism of around the ROI of social marketing, businesses can't duck social. Yet, once you jump in those conversations, it's all you can do not to drown the massive tide of feedback that comes your way. Like Big Data as a whole, Social Data is growing on a geometric curve. As Feld noted Thursday afternoon, the human mind is really only wired to understand linearity. It's hard to fully grasp the implications of a data set that grows by some multiple every day – and as the data grows, so does the taxonomy, birthing an ever-expanding array of categories and subcategories.
Even the basic problems get hard. The comments in a branded YouTube channel can become like an bathroom wall of infinite size, with incidents of profanity, abuse, slurs and slang of dubious goodwill mounting hourly through the stratosphere.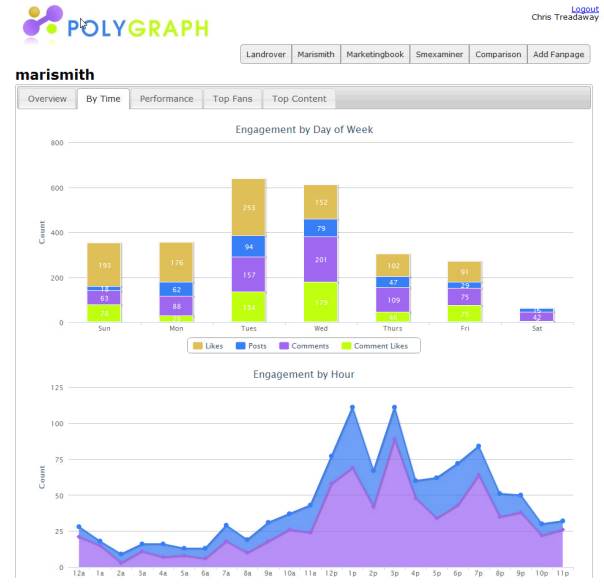 Whose comments should a business take seriously, and how should it tackle moderation with scale? What can be known about these commenters, fans and followers? How can that knowledge be put to profitable but non-creepy use? What's the best way for a business to converse with (rather than broadcast to) the hundreds of thousands or millions of fans on Facebook fan page?
And how do you know if you're doing any of this particularly well?
Those are the types of questions I'm working with Chris and Polygraph to answer. We think those answers are immensely valuable to businesses. Just about everyone we spoke with at Defrag felt the same way.
In a sense, Defrag was like a support group for those of us working on these kinds of Big Data problems. While at times ourselves suffering from information overload, Chris and I returned to Austin last night feeling both invigorated and validated.